Are you worried about an Adult?
What is abuse?
Abuse exists in various forms and can be carried out by one or more people. In any form or situation, abuse is unacceptable and a violation of a person's basic human rights.
Abuse can be:
physical – hitting, slapping, pushing or physically restraining, or the mismanagement of medication
emotional or psychological – shouting and swearing to make a person afraid
sexual – unwanted touching, kissing or sexual intercourse
financial – money or belongings taken under pressure or stolen
neglectful – not being properly cared for, mismanaging medication or being denied privacy, choice or social contact
discriminatory – suffering abuse or neglect on the grounds of religion, culture, gender, sexuality or disability
Abuse can take place in a person's own home, in a residential home or a day centre or hospital. Unfortunately those being abused are often the least likely to bring the situation to anyone's attention.
If you are concerned that an Adult is experiencing or at risk of harm, abuse or neglect please report it to your local authority area by returning to the home page and clicking on your areas link by scrolling to the bottom of the page.
 The Telegraph: Loneliness is deadlier than obesity, study suggests
Loneliness is deadlier than obesity and should be considered a major public health hazard, the biggest ever review into the problem has suggested.
Researchers in the US looked at 218 studies into the health effects of social isolation and loneliness involving nearly four million people.
They discovered that lonely people had a 50 per cent increased risk of early death, compared to those with good social connections. In contrast, obesity raises the chance of dying before the age of 70 by around 30 per cent.
Lead author Dr Julianne Holt-Lunstad, Professor of Psychology at Brigham Young University, Utah, said people should be preparing for retirement socially as well as financially, because for many people the workplace is their biggest source of companionship.
"Being connected to others socially is widely considered a fundamental human need—crucial to both well-being and survival," she said.
"Yet an increasing portion of the population now experiences isolation regularly."
According to the Campaign To End Loneliness, around 17 per cent of older people see friends, family and neighbours less than once a week, while one in 10 go for a month at a time without seeing any loved ones.
A recent survey by the charity found that for two fifths of older people, around 3.9 million, view the television as their main source of company.
Recent ONS stats Britain is the loneliness capital of Europe with its inhabitants less likely overall to know their neighbours or have strong friendships than people anywhere else in the EU, an official study suggests.
Last year, the Local Government Association said loneliness should be treated as a 'major health issue', while charity Age UK claim the issue 'blights the lives' of over a million older people.
Laura Alcock-Ferguson, Director of the Campaign to End Loneliness, said: "Meaningful social connections are essential for human happiness. At the Campaign, we want to make loneliness everyone's business and show that we can all play a role in combatting loneliness in their community, whether as an organisation or an individual.
"At a national level, we're calling for the development of a UK-wide strategy for tackling loneliness and social isolation to help end this growing crisis."
Although loneliness is often viewed as a problem for the elderly, a recent study by the Mental Health Foundation found that 18- to 34-year-olds were likely to feel lonely more often than over-55s.
"There is robust evidence that social isolation and loneliness significantly increase risk for premature mortality, and the magnitude of the risk exceeds that of many leading health indicators," added Dr Holt-Lunstad.
"With an increasing aging population, the effect on public health is only anticipated to increase. Indeed, many nations around the world now suggest we are facing a 'loneliness epidemic. The challenge we face now is what can be done about it."
A recent study by the University of York found that lonely people are around 30 per cent more likely to suffer a stroke or heart disease, two of the leading causes of death in Britain.
But the reasons have remained unclear. Some researchers thought it was simply that there were fewer people to notice when a person was ill or encourage them to take care of their health.
However last year Harvard University found that having no friends was linked to increased levels of blood-clotting protein which can cause heart attacks and strokes.
It is now known that social isolation activates the 'fight or flight' stress signal which increases levels of protein fibrinogen in anticipation of injury and blood loss.
But too much fibrinogen is bad for health, raising blood pressure and causing the build-up of fatty deposits in the arteries.
People with just five people in their social network had 20 per cent higher levels fibrinogen than those with 25. Having 10-12 fewer friends had the same impact on levels as taking up smoking.
BBC News: Minister for loneliness appointed to continue Jo Cox's work
A minister for loneliness, a project first started by the late MP Jo Cox, has been announced by Downing Street.
Tracey Crouch said she was proud to take on the "generational challenge" to tackle an issue affecting about nine million UK people, young and old.
The 42-year-old said she would work across political parties in the role.
A 2017 report said loneliness was as harmful to health as smoking 15 cigarettes a day.
In December 2017 NHS England's chief nursing officer, Prof Jane Cummings, said cold weather and loneliness could be lethal in the winter months.
An estimated half of people aged 75 and over live alone – about two million people across England – with many saying they can go days, even weeks, with no social interaction at all.
 How to help lonely elderly people
Start a conversation. Stop and talk. Don't hurry them.
Offer practical help, such as shopping, posting a letter, picking up prescriptions or walking their dog
Offer to accompany them or give them a lift to medical appointments, the library, hairdressers or faith services
Share your time – volunteer with an organisation that has befriending services matching you with an isolated elderly person for home visits or regular phone calls
Help with household tasks – offer to take out the rubbish, change light bulbs, clear snow, put up pictures
Share a meal – take round an extra plate of hot home-cooked food or a frozen portion
Source: NHS
… and lonely younger people
Reach out. Arrange to meet face to face or talk on the phone
Encourage people to start conversations, whether a short face-to-face chat or joining an online discussion
Offer to go to a class or group activity with them
Suggest they look for talking treatments in their local area to help them manage the mental health effects of loneliness or recommend an online support community like Elefriends
Listen and don't make assumptions. People can feel lonely even if it looks like they have a busy and full life
for Children – to find ways to help people cope.
In a joint statement, they said they welcomed government acceptance of the need for "a new ministerial lead who will have the responsibility for creating a national strategy".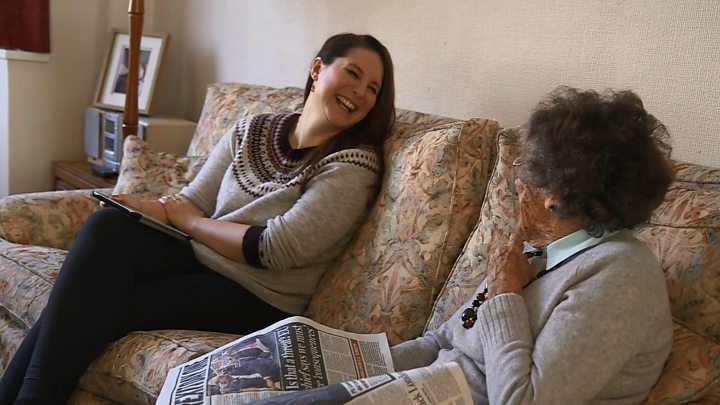 Source: Mind
In an emergency always call 999.